The Supreme Court in MA has rejected a plan that would allow utilities to charge customers to help finance new natural gas pipelines.  The good news for customers is they will not be charged additional fees; the bad news is that customers are still susceptible to huge price spikes due to not enough natural gas supply.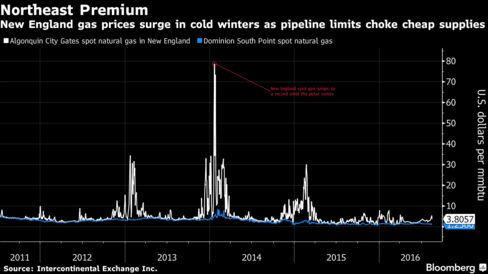 The highest court in Massachusetts struck down a bid by electric utilities to charge ratepayers for new natural gas pipelines, dealing a blow to their efforts to boost supplies of the fuel and avert shortages.
The Massachusetts Department of Public Utilities cannot approve contracts that force electric utility customers to subsidize gas pipelines, according to a ruling by the Supreme Judicial Court of Massachusetts on Wednesday. The court vacated an order from the department that authorized the contracts, which it said would unfairly expose ratepayers to higher costs.
The ruling will hamper efforts by Massachusetts to expand its gas pipeline network to avoid a repeat of price surges that have come to haunt the New England region during severe winter cold snaps. It also throws into question a plan by Eversource Energy and National Grid Plc to help Spectra Energy Corp. build the $3 billion Access Northeast natural gas pipeline project.
Spectra "is extremely disappointed with the decision," Arthur Diestel, a company spokesman, said in an e-mail. "We will have to reevaluate our path forward — consistent with the court's decision — to provide the infrastructure so urgently needed by New England's electric consumers."
The ruling leaves the region in a "precarious" position without enough gas capacity for electric generation during cold winters, Caroline Pretyman, a spokeswoman for Eversource Energy, said by e-mail. Eversource fell as much as 2.3 percent before erasing losses.
Read the rest at Bloomberg.com